November marks World Vegan Month. It's the chance to explore plant-based products and uncover new favourites that you can enjoy all year round.
At Barrique Fine Wines, over half of our wines are suitable for vegans and we've got some beautiful bottles to choose from. Vegan living relates not only to what the product is made from but also in how it is made, with a commitment to sustainability a core element of veganism. When selecting our 100% plant-based wines, we've looked for producers that are dedicated to sustainable winemaking practices.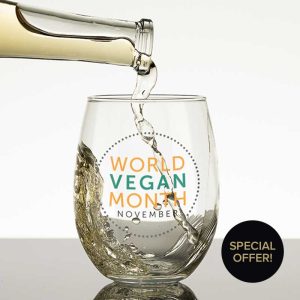 The idea of a vegan wine can confuse, with wine quite clearly plant-based. However, practices used in during the purification process use animal-derivative fining agents. In many wines, gelatine, fish bones and egg whites are used to take out the tiny yeast and protein particles that are suspended in wines. It's a process that will make the wine clearer. In vegan wines, clay or charcoal is used to remove the particles in the fining process. It is well worth checking your wine bottles as not all wines that are vegan make it obvious on the label.
We've taken the guess work out of finding the finest vegan wines this November. With something stunning for every taste, going plant-based may be a permanent move.
Sabalo 2020 Barbadillo, Vino de la Tierra de Cadiz 13%
A weighty white from the south west of Spain, Bodegas Barbadillo uses the Palomino grape from two of their certified organic vineyards and were the first producer to fully adopt organic wine production. 
The area around Cadiz is better known for the fortified wine of Sherry. The Palomino grape is used to make dry sherry, but – as a white wine – in offers a complexity and depth that rewards. The Sabalo has the softest hint of salt that sits well alongside seafood. A sublime balance of apple and peach with subtle spicy notes, the Sabalo's creamy palate is expansive and generous.
Cabernet Franc DOC Venezia 2021 Savian, Veneto 13%
The Veneto is a region that is committed to biodiversity and the Savian vineyards led the charge in putting the environment at the heart of their family business. Almost 30 years ago, in 1993, Savian became the first producers in the Veneto region to be certified organic. With vineyards rich in clay soil with shallow carbonate, the scene was perfectly set for low intervention wine, which is in keeping with organic practice. 
The Savian Cabernet Franc is a deep ruby colour with purple hues. Medium-bodied, this wine will keep – improving as it rests. Herbaceous notes are predominant but it is a young wine that will develop in elegance. 
#3 Pinot Gris 2020 Tohu, Awatere Valley 13%
Situated to the south of New Zealand's Marlborough region, Tohu is the world's first Māori-owned wine business.
Dedicated to creating wines that capture the essence of each region's unique environment, Tohu respect the earth in which the vines are grown and consider protecting resources from the next generation an integral part of their philosophy.
This Pinot Gris allows the drinker to experience flavours and notes that are both complex and deep. The pairing of pear and quince are well met with the lightness of orange blossom and the sharpness of apple. With sweet spice and a smooth acidity, this wine delivers on several levels before leaving a lengthy finish.
El Seque Monastrell 2019 Artadi, Alicante 14.5%
Not only is the El Seque Monastrell a fully organic and vegan wine, but it is entirely produced from grapes grown on the one estate. This wine benefits from the Mediterranean climate, which informs the wine's character. Artadi are fully committed to producing wines that are a result of a vibrant ecosystem, its own 'alive' entity and separate to outside influences. Warm black fruits and balsamic notes come together in a full-bodied wine from a grape native to Spain.
#5 Zweigelt 2019, Seifried, Nelson 14%
Seifried Estate was an early adopter of a sustainable approach to viniculture, signing up to New Zealand's Sustainable Winegrowing programme when it was launched in the mid-90s. This wine benefits from the heat of 2018-19's growing season, which gives it a rich depth of dark fruit, with hints of dried fruit and Christmas spice and even hints of chocolate coffee within. Any tannins present are well-balanced with the deep fruit flavours and the wine itself is pleasingly deep red in colour.
#6 Geppetto Pinot Noir 2019 Crittenden Estate, King Valley 14%
An unsurprising addition to our portfolio, as the 2020 Platinum Winner of the International Sustainable Winegrowing Award, this wine from Australia's cool Victoria region is bright and fresh but full of flavour.
The Crittenden Estate consider all aspects of wine production in terms of sustainability, from solar energy to bees and composting. With red berry fruits and supple tannins, this is a fabulous example of Pinot Noir at its best.   
Throughout November, Barrique Fine Wines will be celebrating World Vegan Month with a special mixed case.
With over 50% of our portfolio being suitable for vegan diets, we've chosen the 6 wines from producers who go the extra mile with their commitment to sustainable winemaking – which we have outlined above.
Receive 25% off when you purchase our World Vegan Month Case was £113.90 now £84.90 - Available for a limited time only.